Thirty years after his death, the creator of the classic Pride anthem You Make Me Feel (Mighty Real) is the subject of academic symposia. Not bad for a drag queen who was 'just trying to get on to the radio'
On a sunny Thursday afternoon, the theatre at the University of Sussex is playing host to an interdisciplinary academic conference. Its subject is disco, and today, more specifically, the singer Sylvester. There are papers delivered on his image, his exclusion from the traditional black press in the 1970s, the way his sound evolved, his "refusal to be reduced to a social category" and the "polychromatic mutual interdependence" of his music.
The conference's subject always took fame as his due, fitting reward for his own indisputable fabulousness. "He was the kind of guy who was living that fantasy from early on – even as a teenager, he already thought he was in a movie in which he was the fabulous star," says Joshua Gamson, a professor of sociology at the University of San Francisco and author of the acclaimed book The Fabulous Sylvester: The Legend, the Music, the Seventies in San Francisco. "So when it hit, it wasn't too hard for him to inhabit that new rule."
Still, you do wonder if even he might raise a perfectly penciled eyebrow at how he is being discussed 30 years after his death. Certainly, posterity and academic analysis were not on anyone's mind during the writing of the song that made Sylvester famous. "We were just trying to get on to the radio," says James Wirrick, the co-writer of You Make Me Feel (Mighty Real), which celebrates the 40th anniversary of its release later this year. Instead, they made not just one of disco's impermeable classics – a song you never seem to be that far away from hearing on the radio, TV or a film soundtrack – but one of the most groundbreaking records in pop history – and an enduring Pride anthem.
As Wirrick points out, in early 1978, Sylvester was in desperate need of a hit. He was 30 years old and had already lived an extraordinary life. In the late 60s, he had been a member of the Disquotays, a group of fierce, black, teenage drag queens "somewhere between a street gang and a sorority house", as one former member put it. They openly flouted California's law against public cross-dressing by wandering the streets of South-Central Los Angeles in full drag, and threw outrageous, hedonistic parties. Sylvester later claimed the Disquotays had joined in the 1965 Watts riots, looting "wigs, hairspray and lipstick … just the fun stuff". He graduated from high school wearing a blue chiffon dress and a beehive wig, moved to San Francisco and joined the Cockettes, a cross-dressing hippy performance art troupe, singing old blues songs and jazz standards in his astonishing gospel-trained voice amid the LSD-fuelled madness of their shows.
In the early 70s, he made a bid for mainstream success fronting the Hot Band. David Bowie was an admirer, but the US wasn't ready for an androgynous black man doing covers of Neil Young songs and A Whiter Shade of Pale: the band was threatened with violence when they toured in southern states. He scored another record deal as a solo artist on the basis of a nightclub act that was packing them into the bars in San Francisco's Castro district. An eponymous 1976 funk album was a minor hit in Europe, but "a dismal failure" in the US, according to Wirrick, who had been recruited as Sylvester's guitarist before its recording. "Sylvester preferred to work with straight musicians," he says. "He used to say: 'There's only room for one queen in this band and I'm it.'"
So when Wirrick turned up at rehearsal with a chord sequence for an unfinished R&B ballad that piqued Sylvester's interest, the singer alighted on it and insisted the band transform it into a disco track: he didn't necessarily see himself as a disco singer, but it was big at the time and plenty of other soul vocalists had done well out of the genre. Wirrick says the song sounded like a hit straight away, but the secret ingredient came via Sylvester's friend, a visionary electronic musician, and producer called Patrick Cowley. He made soundscapes inspired by Tomita and Wendy Carlos, had a company called Short Circuit that made sound effects and jingles for radio and had devised his own 15-minute remix of Donna Summer's I Feel Love in 1977. The latter, eventually released in 1982, showed Cowley devising a harder, faster, dirtier take on the synthesized disco sound that Giorgio Moroder had pioneered.
"He was gay, Moroder is straight, and I have to say that comes out in the sound," says Josh Cheon of Dark Entries, a label that in recent years has curated Cowley's musical legacy, releasing a string of albums that display his visionary talent in full. "He takes that sound and he queers it. He spent a lot of time in the bath houses and I think that played into his sound. San Francisco was a disco scene that was very up; people were taking uppers – the drug of choice was speed – and I think that was reflected in the increase in BPMs he was employing."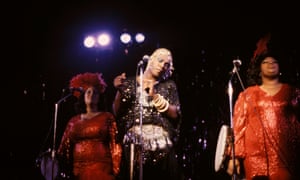 Cowley threw everything he had at You Make Me Feel (Mighty Real): the frantic, erotic pulse of a synthesized sound that would come to be called hi-NRG, using the "outer-space" effects he devised for radio. The musicologist Louis Niebur suggests that a single that foregrounded the synthesizer constituted an open act of rebellion, at least in 1970s US, where audiences "considered electronic sound queer, other or European – as opposed to the electric guitar, which is the male sound". Here, Cowley's synths wove around Sylvester's voice, emotive and affecting, rooted in gospel and blues and far removed from Donna Summer's ethereal sex-android coo. This created a template – powerful soul vocal over intense, futuristic electronics – that pop and dance music would follow again and again in future.
It was more than just a revolutionary sound. On the surface, it appeared to be a song about almost nothing. Sylvester had thrown together the melody and lyrics virtually on the spot in rehearsal. "They said exactly what was going on," he later shrugged. "To dance and sweat and cruise and go home and carry on and how a person feels."
But as Gamson points out, in 1978, "that was a radical thing … you've got a gay queen making up a song about their everyday life. It's not like this deliberate: 'I've got to write a song about being gay.' It's: 'This is my life, I go out on the dancefloor and, within 10 seconds, I've identified someone – and by the end of the song, you've made me feel God … I've felt ecstasy.' And it's definitely gay ecstasy. It's not something that people were writing and singing about."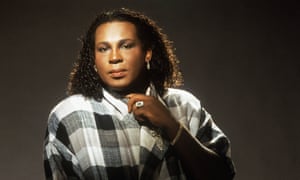 There was also the matter of the chorus and its loaded use of the word "real". "What is it in that song that is making him feel real, like the most fully me; the most you can possibly be?" says Gamson. "I don't know exactly what sex act it is, but it's some sexual experience that is transformative." Here was a man singing that he truly feels himself while having sex with another man; an incredibly bold and uncompromising thing to say in a pop song 40 years ago. Moreover, it referred back to the drag circles Sylvester had moved in, where, Gamson notes, it meant "the making of the fantasy self-actual" – to be "real" was to pass in a social role that had been denied you.
Perhaps these were resonances that sailed over most record buyers' heads when You Make Me Feel (Mighty Real) was released as a single in August 1978, although looking at the video in which Sylvester appeared first in leather, then a suit, then a sequined gown and hat – you have to wonder how anyone could possibly have concluded that the object of the singer's desire was anything other than a man. It was a huge global hit: when Sylvester arrived in London to promote it, at gay and straight clubs alike, he was mobbed.
He made other records that were successful and fantastic: Dance (Disco Heat), Stars, an astonishing live album called Living Proof – recorded at San Francisco's Opera House while the singer was tripping on LSD – and Do Ya Wanna Funk, a final collaboration with Cowley, who in November 1982 became an early victim of the Aids epidemic. But none had quite the same lasting impact as You Make Me Feel (Mighty Real). In 2018 alone, says Wirrick, he has had eight different requests to use it in films, videos, and commercials. "Can you imagine what a star he would be today had he lived?" he says. "He would be a judge on America's Got Talent or he'd have his own syndicated series … who knows?"
On the most basic level, You Make Me Feel (Mighty Real) has lasted because it's an incredible, timeless pop record, strong enough to transcend its era. But perhaps there are other, deeper reasons, too. "Where does the power of that song come from? Why has that power lasted?" says Gamson. "I think it has to do with Sylvester and Patrick's ability to bring together these things that were on the margins – traditionally excluded from value – and bring them right into the center."
And perhaps it has something to do with what a curiously modern figure Sylvester seems, proudly genderqueer before anyone used that term: a man one day and a woman the next, depending on his mood. "More than just a drag queen or a gay guy or a transsexual – he was all of that," one friend recalled. As Sylvester himself told a New York audience in November 1978, while basking in the first flush of fame that You Make Me Feel (Mighty Real) brought him: "Sometimes, folks make us feel strange, but we're not strange. And those folks – they'll just have to catch up."
Since you're here…
… we have a small favor to ask. More people are reading the Guardian than ever but advertising revenues across the media are falling fast. And unlike many news organizations, we haven't put up a paywall – we want to keep our journalism as open as we can. The Guardian's editorial independence means our only agenda is to provide trustworthy reporting for our readers around the world. Facts are sacred; so is our independence. So you can see why we need to ask for your help.
The Guardian's independent, investigative journalism takes a lot of time, money and hard work to produce. But we do it because we believe our perspective matters – because it might well be your perspective, too.
If everyone who reads our reporting, who likes it, helps to support it, our future would be much more secure. For as little as $1, you can support the Guardian – and it only takes a minute. Thank you.