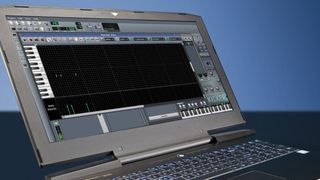 If you're a DJ, or even an aspiring music producer, you're going to need more than just the best headphones, you're going to need one of the best laptops for music production.
If you're looking for the top laptop for music, you might want to consider any device that has one of the best processors and plenty of RAM – this is important because these will help your laptop handle multiple music tracks efficiently. You also want one of the best SSDs or hard drives, as you'll be working with large file sizes. Finally, you're going to need awesome sound – whether through great speakers or the ability to connect to external sound outputs.
You'll also want something that can take a beating. While you don't necessarily need one of the best rugged laptops, the best laptops for music productions should be able to handle and bumps and knocks that occur while travelling from gig to gig. And, because you're going to be carrying it around, you'll want something that's thin and light – so take a look at the best Ultrabooks.
While the MacBook Pro may be the default for most musicians, plenty of the top laptops for music production will run Windows 10 instead.
>> Read Full Article https://www.techradar.com/news/the-best-laptops-for-dj-in-2018