L.A.'s Newest HOME For House Music Opens It's Doors on Friday June 18th, 2021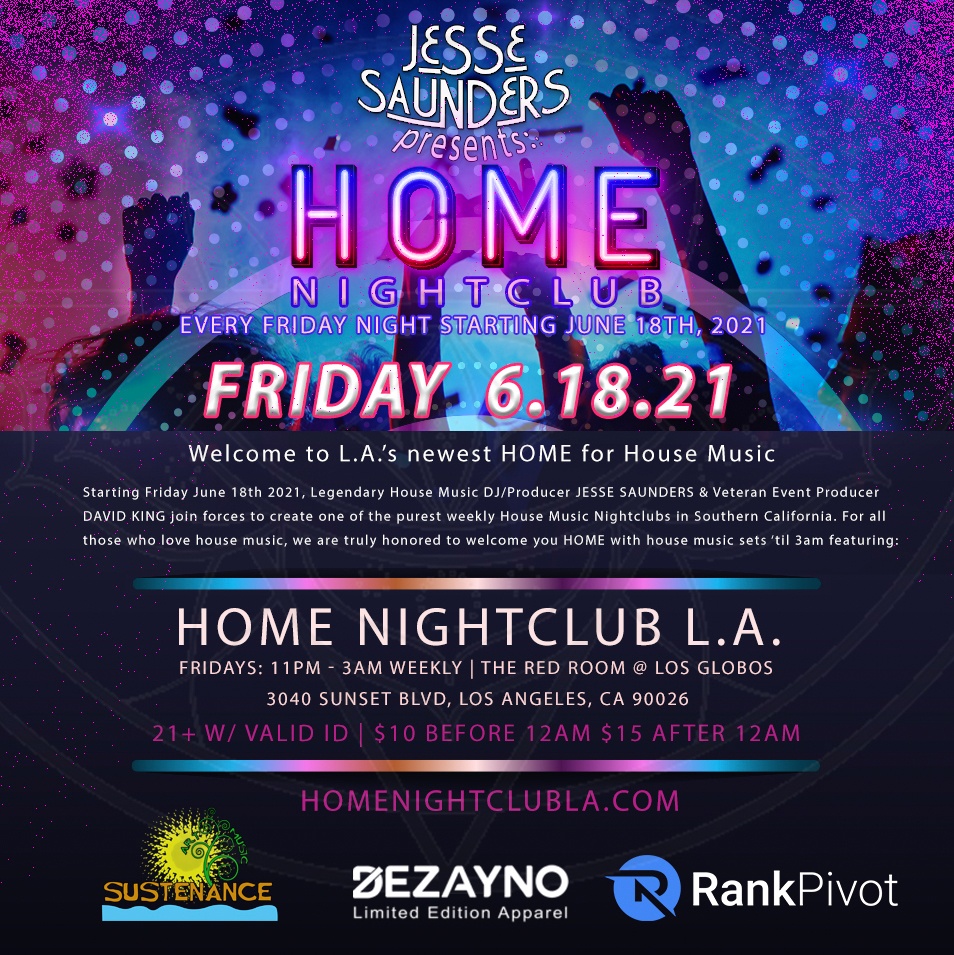 Los Angeles, CA – HOME Nightclub will open a brand new HOUSE MUSIC NIGHTCLUB in LOS ANGELES, CALIFORNIA USA on Friday, June 18th, 2021 which will become one of the First Friday Night Weekly House Music Events in Los Angeles County since the COVID-19 Pandemic.
The recent news of the new house music venue located at 3040 Sunset Blvd, Los Angeles, CA 90026 has given lovers of house music across Southern California something to get excited about! And with justification, as legendary DJ/Producer Jesse Saunders, creator of the first House Music record in the world; 1984's "On And On" and veteran event producer David King have teamed up to create HOME Nightclub to be one of the top places to be every Friday night for house and techno music in Southern California.
"Jesse and I have been talking about working on an event project together for well over 10 years. We both said we want HOME to be simply that… a HOME where people can go to and hear pure house music, played by some of the legends in the scene in an intimate space where they can dance the night away and let off steam and feel at HOME" said HOME Nightclub co-founder David King, "If we can provide the space, the talent, and bring the vibe, the people will benefit, which is what we want. It's all about the love for house music."
It is with this purity and love for the underground scene and electronic music and the art of DJing that is the foundation of L.A.'s newest nightclub venue HOME. It is no doubt that club-goers and house music lovers throughout the west coast truly have something to get excited about.
"Since the pandemic, we have seen people go through so much upheaval, dancing has always been one of the purest forms of release. It's exciting to see life coming back to L.A. and HOME nightclub is exactly what we need," said Nadia a self-proclaimed club-goer and dancefloor fanatic.
One thing is for certain with talent such as Jesse Saunders, Eddie Amador, Steve Loria, BB Hayes, Holly Adams, VRDGU, Tommy B (Vegas), DJ Reza, Thee-O, DJ Huggie, Mike Geometry, Ashka, and more every Friday night from here on out is going to be banging some serious house music from 11pm – 3am.  It is an exciting time to see L.A. house music events like HOME Nightclub breathe new life into the nightlife scene while maintaining a focus on the quality house and techno events for purists.
For more information please visit: https://HOMENightclubLA.com
Media Contact
Company Name: HOME Nightclub Los Angeles
Contact Person: Media Relations
Email: Send Email
Country: United States
Website: https://homenightclubla.com/events/