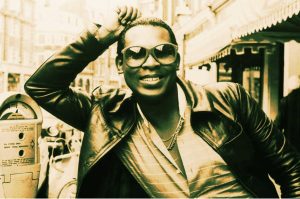 Dark Entries prepares an album of jazz, gospel and blues on Sylvester's Private Recordings: August 1970 in honor of legendary disco vocalist's 76th birthday.
Sylvester is best known for disco, but Sylvester had range. He had range within that range.
Private Recordings: August 1970 features the legendary vocalist and icon singing nine songs, mostly standards from jazz, blues and gospel. One afternoon in 1970, Sylvester and pianist Peter Mintun "recorded a number of their shared favorites using a high-end microphone a friend had acquired. Private Recordings features 9 songs from this session, including standards like 'Stormy Weather,' 'Happy Days Are Here Again,' and 'God Bless the Child.'"
Private Recordings: August 1970 also includes a 16 page booklet featuring previously unseen photos of Sylvester in "staged photographic shoots in vintage couture."
Released by Dark Entries, Private Recordings: August 1970 will drop on September 6 2023, which would have been Sylvester's 76th birthday. All proceeds will go to "the two charities that Sylvester left his royalties after his death: Project Open Hand and PRC (formerly AIDS Emergency Fund)." Pre-order is available on Bandcamp.
Listen to Sylvester and Mintun on the first track, their cover of the Billie Holiday standard "God Bless The Child":