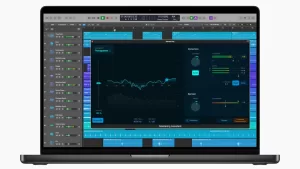 The new assistant 'listens' to your mix and makes suggestions for a better master
Apple has updated Logic Pro for both the Mac and the iPad. The new updates – version 10.8 on Mac and 1.1 on the iPad – add extra features to the already packed DAW, including Apple's first foray into what looks like AI music-making tools, although the divisive acronym is nowhere to be seen on the company's press release.
The major new feature is a new Mastering Assistant that 'listens' to your mix and creates suggested parameters to tweak to get a "release-ready mix". Users can select the "character" of mastering they'd like to use, including "clean" and "transparent", and an EQ curve shows the suggested frequency tweaks Mastering Assistant thinks you should make. There's also control for dynamics including a loudness knob and a stereo spread section, with meters for both LUFS and stereo correlation.
Elsewhere, Apple has added Sample Alchemy and Beat Breaker — two plugins that were previously only available on iPad — to the Mac version of Logic Pro. Sample Alchemy allows you to build instruments from small samples, using granular, additive and spectral synthesis. Beat Breaker is a real-time FX plugin that lets you chop, scratch, reverse, repeat and slice incoming audio, similar to other multi-FX plugs on the market.
The tech giants have also added two new sound packs: Hybrid Textures and Vox Melodics, both full of harmonies, loops, licks and one-shots.
For the iPad specifically, a new Quick Sampler lets users make instruments using the built-in mic by recording sounds and spreading them across the keyboard.
Logic Pro for Mac costs £199 while the iPad version costs £4.99 and both are available now.