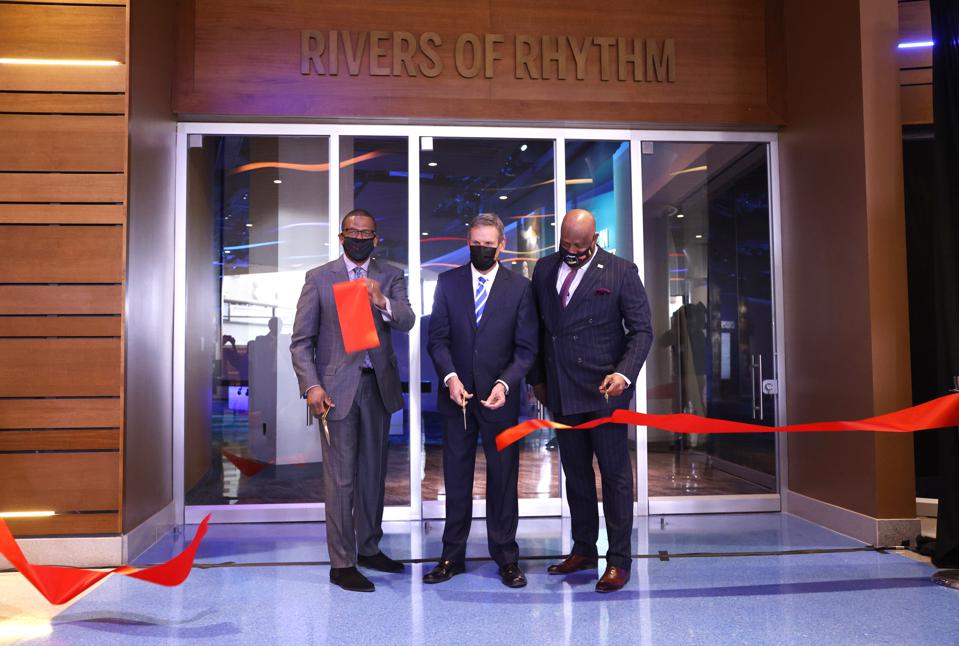 The National Museum of African American Music (NMAAM) officially opened its doors today during a ribbon cutting ceremony in Nashville. When the museum opens to the public on Jan. 30, visitors will be able to view a new "Business Behind the Music" exhibit amplifying Black music business pioneers along with additional displays that educate, preserve and celebrate the influence of African Americans in music.
NMAAM also recently announced a new partnership with Sony Music Group (Sony/ATV Music Publishing with The Beatles, Marvin Gaye, The Rolling Stones and Beyoncé). Developed through Sony Music's Global Social Justice Fund, the collaboration introduces a Sony Music Scholars Black Music Certification and Scholarship Program to make a positive impact on the community through music education.
"We are thrilled to partner with Sony Music Group to grow the museum and invest in the Nashville community," NMAAM president and CEO H. Beecher Hicks III said in a statement. "Sony Music's partnership helps us tell a unique story of Black music executives and also looks to the future to help create the next generation of leaders in music. We're excited to finally be able to share the museum with the world later this month."
Sony Music Group is the first music company to support the museum's mission and values ahead of its opening today, according to an NMAAM announcement. The scholarship program will specifically introduce students to the music industry through the lens of African American history and culture. Participants will also gain an understanding of all the arms of the music business and related careers.
As Sony Music Group collaborates with NMAAM on curriculum, course and certification dedicated to Black music culture and business, the music company will also underwrite the museum's "Business Behind the Music" exhibit. The exhibit, curated to be one of the most complete and up-to-date collections of its kind, will highlight Black music executives, record labels and publishers that have played a significant role throughout American history.
"Sony Music Group is honored to partner with the National Museum of African American Music to introduce the new Sony Music Scholars Black Music Certification Program and Scholarship," said Towalame Austin, executive vice president of philanthropy and social impact at Sony Music Group. "The education program is underwritten by our Global Social Justice Fund and will focus on the history of Black music and business, and bring a new generation of creators and change agents into the industry."
Towalame recognizes NMAAM as an institution that is important to Nashville and the entire music industry for telling the complex, overlooked and expansive history of Black artists and songwriters across all genres of music.
Sony Music Group's additional social justice and philanthropic endeavors include last year's launch of a $100 million fund for social justice and anti-racist initiatives around the world. As part of the fund, each global division of the company created a task force and advisory group that engages locally around the world.
Sony Music Group previously announced that it was the only music company during the past few years recruiting at H.B.C.U.s (Historically Black Colleges and Universities), specifically the Atlanta College Consortium career fair with Clark Atlanta, Spelman and Morehouse colleges. Global diversity partnerships include Digify Africa, which provides people from disadvantaged backgrounds the opportunity to work at Sony Music Africa in three-month rotations to help address low digital literacy levels in South Africa and the continent.
In India, Sony has partnered with MusicBasti, a music-led leadership and social skills learning platform that works with children from under-resourced schools and communities to develop their interpersonal and creative skills. The company also partnered with the non-profit charity Build a Music School (BAMS) in Hong Kong to provide youth mentoring which nurtures local teenagers and young adults in the Burmese community through music training and skills development.
I am a professional, award-winning journalist with more than 15 years of experience writing and editing arts and entertainment content for leading media companies across the country. Earning a master's degree in Media Management from The New School has built my expertise in the latest practices and concepts for managing traditional and emergent media organizations and platforms. As a violinist, music is my passion.