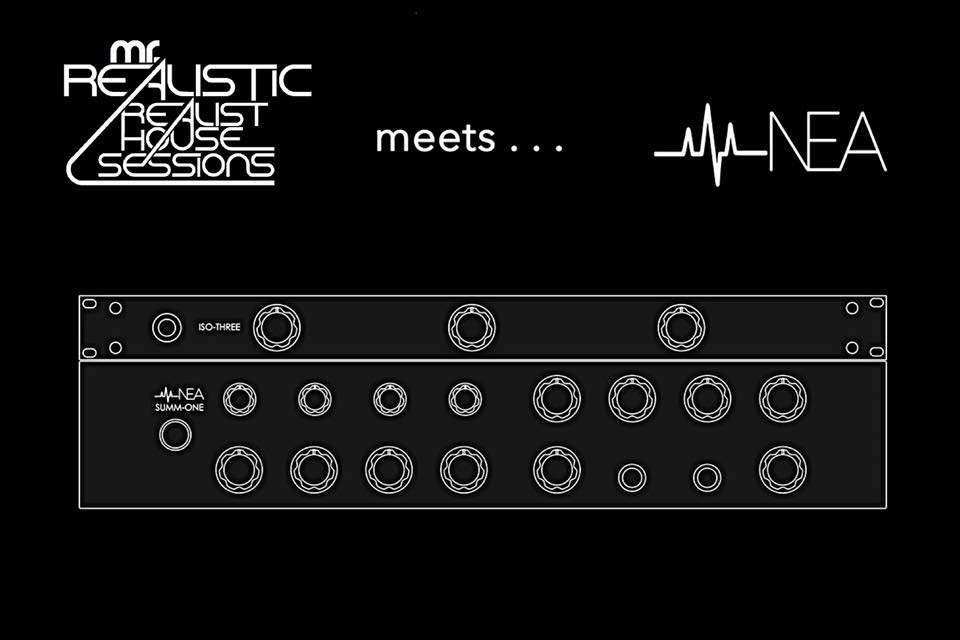 James Hall AKA Mr. Realistic
Co-Owner of My House Radio
International DJ and Producer
In 2015 I was introduced Italian Dj/Producer Antonio Deep Scarano through a mutual friend Teddy Esposito the owner of Groovin Records in NYC at the time. I had told teddy in conversation that I was interested in possibly buying a new mixer. Teddy referred me to Antonio who also owned business called NEA which is a little known company the makes some of the best quality rotary mixers in the world. I didn't think to much about it till i went to the website and saw that The Kings of House. Louie Vega, Dave Morales and Tony Humphries had not only endorsed them but, They were all using custom made mixers and isolators by NEA on tour and in their clubs. What really made me take notice was their equipment also had the special touch with all custom embroidered gear with their names and logos which i had never seen before. So I began trading messages with Antonio about purchasing equipment but because of timing I put it on the back burner and ended up buying a pioneer 900 nexus2 system because at the time I felt it better to home my skills on the club standard gear and so goes the story with my custom mixer dreams for time being.
Fast forward to the year 2000. I was still in constant contact with Antonio who was now blowing up the scene with his tracks and dope mixes. Covid-19 was in its early stages and our world in the club scene was turn upside-down with everything closing down. So one day I'm home sitting in Isolation and Antonio sent me a message, he said that he and his partner had  totally revamped NEA and were focused  on one main product. Thinking to myself hmmm?? What could be so special that they would shift their focus to one product?? Especially knowing they had so many great products that have been their bread and butter. He them told me they had developed a new mixer called Ulisses. Which he described as the best product that he had ever developed?? Knowing their history I said, ohh!! I have to see this. He stated that they were unveiling the product with a special live mix by Soul Dynamic and invited me to tune in to a special set highlighting the new mixer.
Upon tuning in I instantly knew there was something special about this mixer, It was literally a beast. The size of the mixer literally made me say whoa!!! out loud!!! LOL.  But that wasn't the main reason. It was the sound quality over the airways I was hearing!! So crisp so clean over youtube which we all know social media suppresses sound quality. But this sounded like I was there standing live in the studio. It really was an eye opener. Again my dreams of owning a handmade custom mixer had been awaken. So again the talks began between Antonio and myself about making a purchase. I'm going to keep it 100 percent real, I had sticker shock when he told how much the mixer was!! Coming in at $3,000 euros. I said I'm going to have to really think about this one because we are in the middle of a pandemic and that's a serious investment. The fate of the world and the club scene around us was full of uncertainty. As I was on the NEA FB Page checking daily at this time I saw Ulisses was being endorsed by legends Kerri Chandler and Kenny Carpenter. So I reached out to Kenny who straight up without any hesitation "it was the best mixer he had every played on" and that I was crazy if I didn't get one I would not regret it LOL Think about that for a minute, Legend Kenny Carpenter who has played the world over probably fives times for the past 40+ years told me personally it was the best mixer he had ever played on. Kerri chandler said it was the Ferrari of DJ mixers. Those are pretty bold statements coming from a couple of the industries most influential legends!!! So after a few month of losing friends and family members to covid I decided that tomorrow is not promised to anyone and I be damned if I'm going to live my life in fear and deny myself of the things I want most in my life. I had worked so many years and owned this radio station (myhouseradio.fm). I deserved this, who am I to deny myself a simple pleasure after taking care of so many people over the years. So I reached out to Antonio and NEA and said let's do this.
Immediately they were as excited for me as I was for myself. After all these years of conversation they knew It was a big deal to me and made the experience one I will never forget. They stated that they were going to get stared and make the unit for me from the floor up. It would take about four weeks to complete. They also advised me for a few extra dollars they could also design a custom made travel case for the unit. I said absolutely!!!! I felt special from the beginning.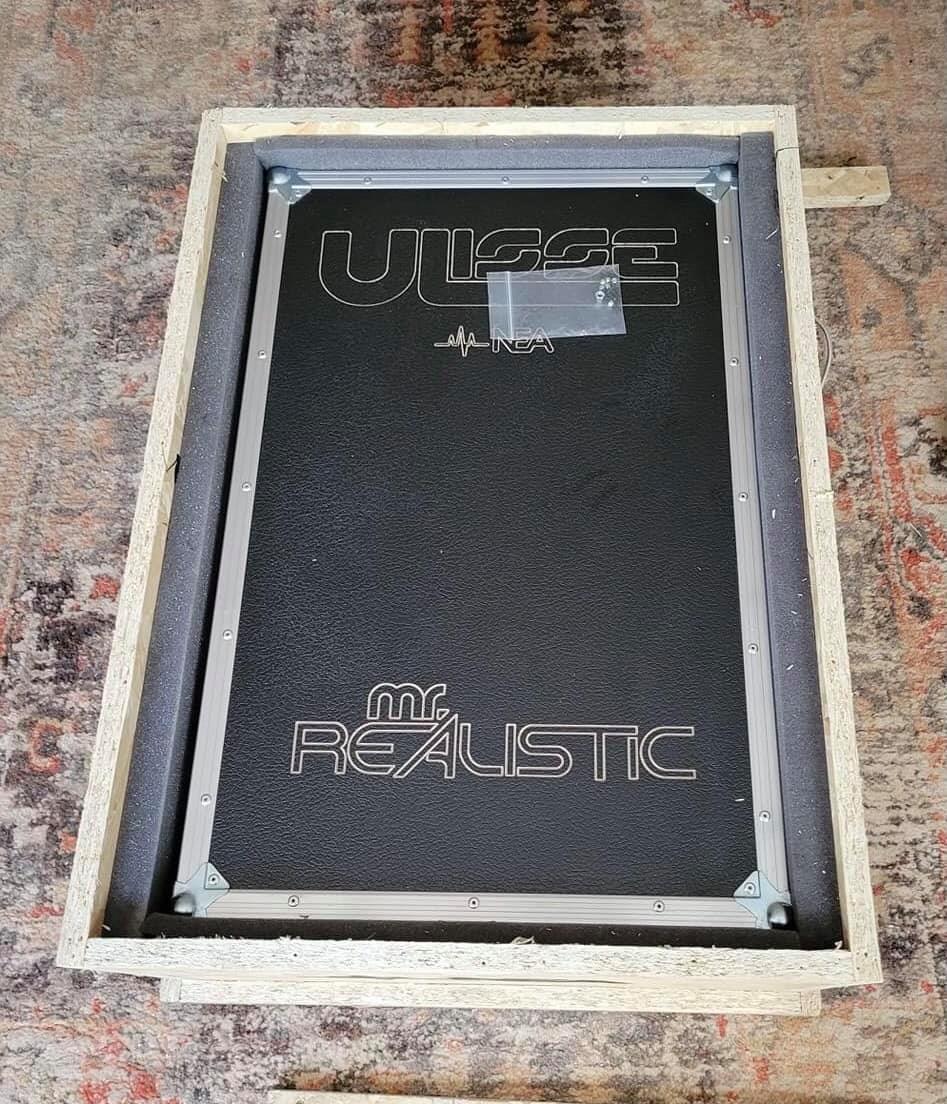 So after my order was completed in exactly four weeks as promised, it was shipped.  There was a hiccup there but be aware that international shipping prices had gone up four times the normal cost due to covid. Be sure to make arrangements and discuss cost prior to your order so there are no surprises which could lead to a misunderstanding. But it was worked out.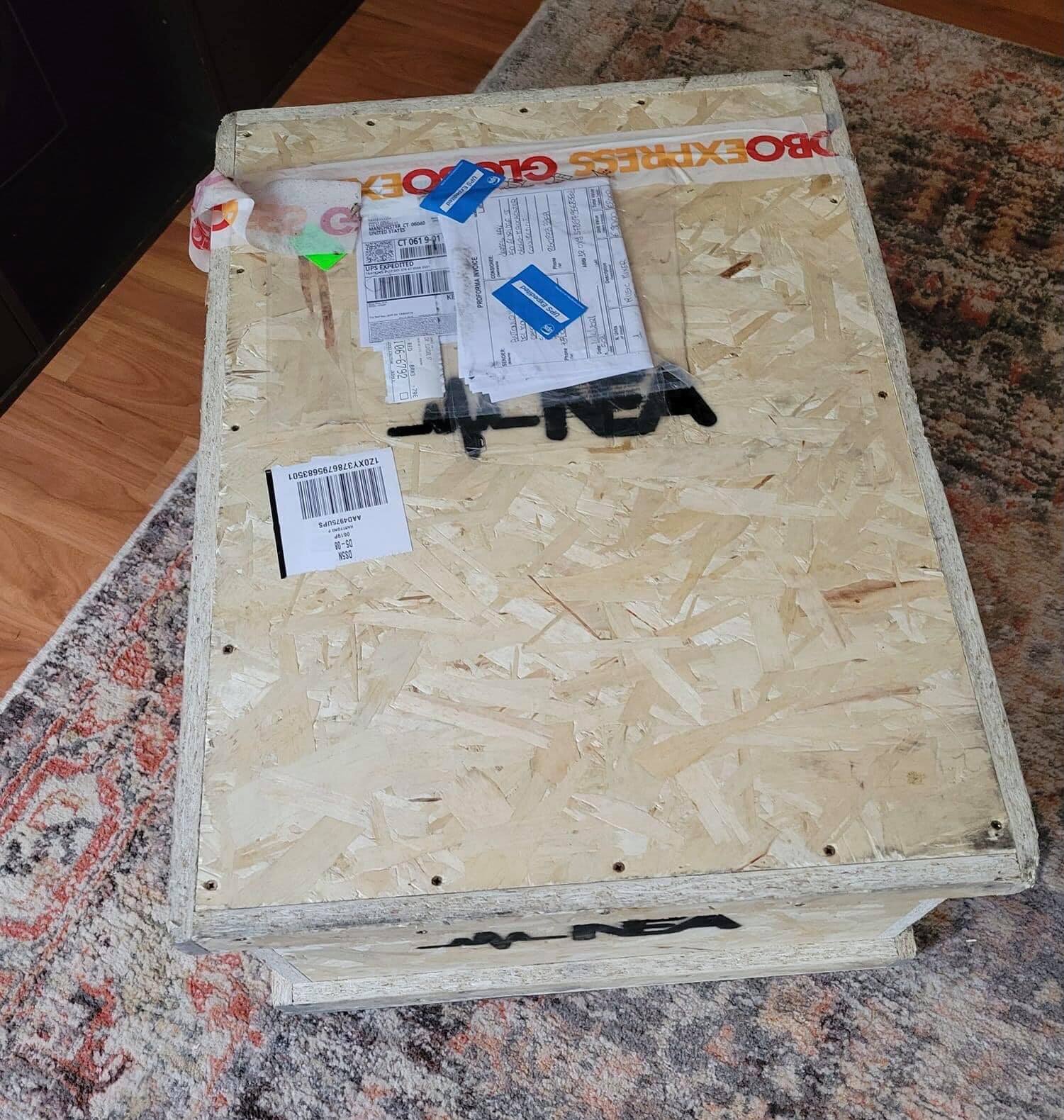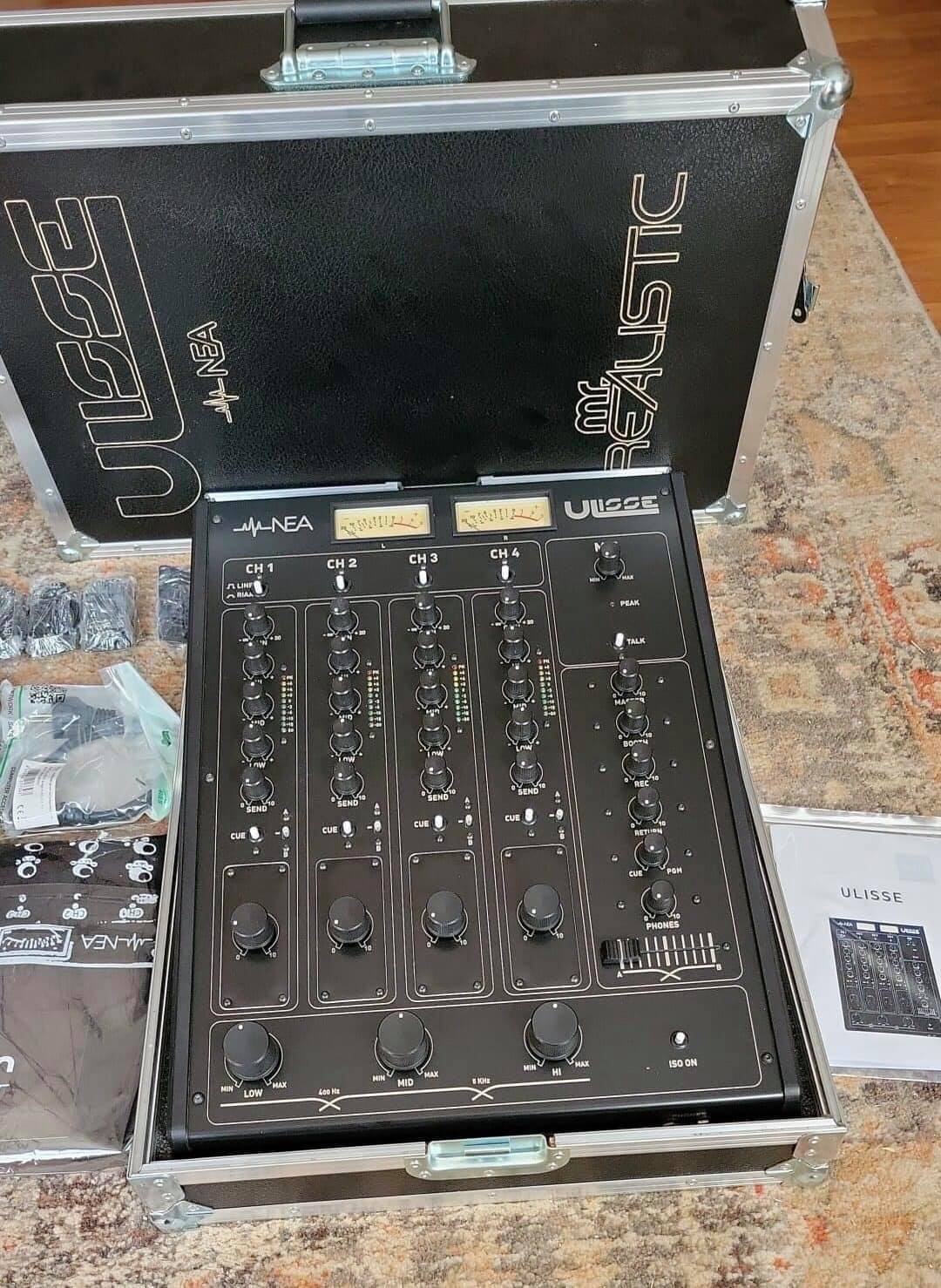 On April 27th 2021 i received my Ulisses and instead of writing a review right off the rip and just hyping up the product with puff without really testing it out, I thought I 'd not be giving it justice. I then set it up and went to work playing pretty much about 5 hours a day the first week it got it LOL.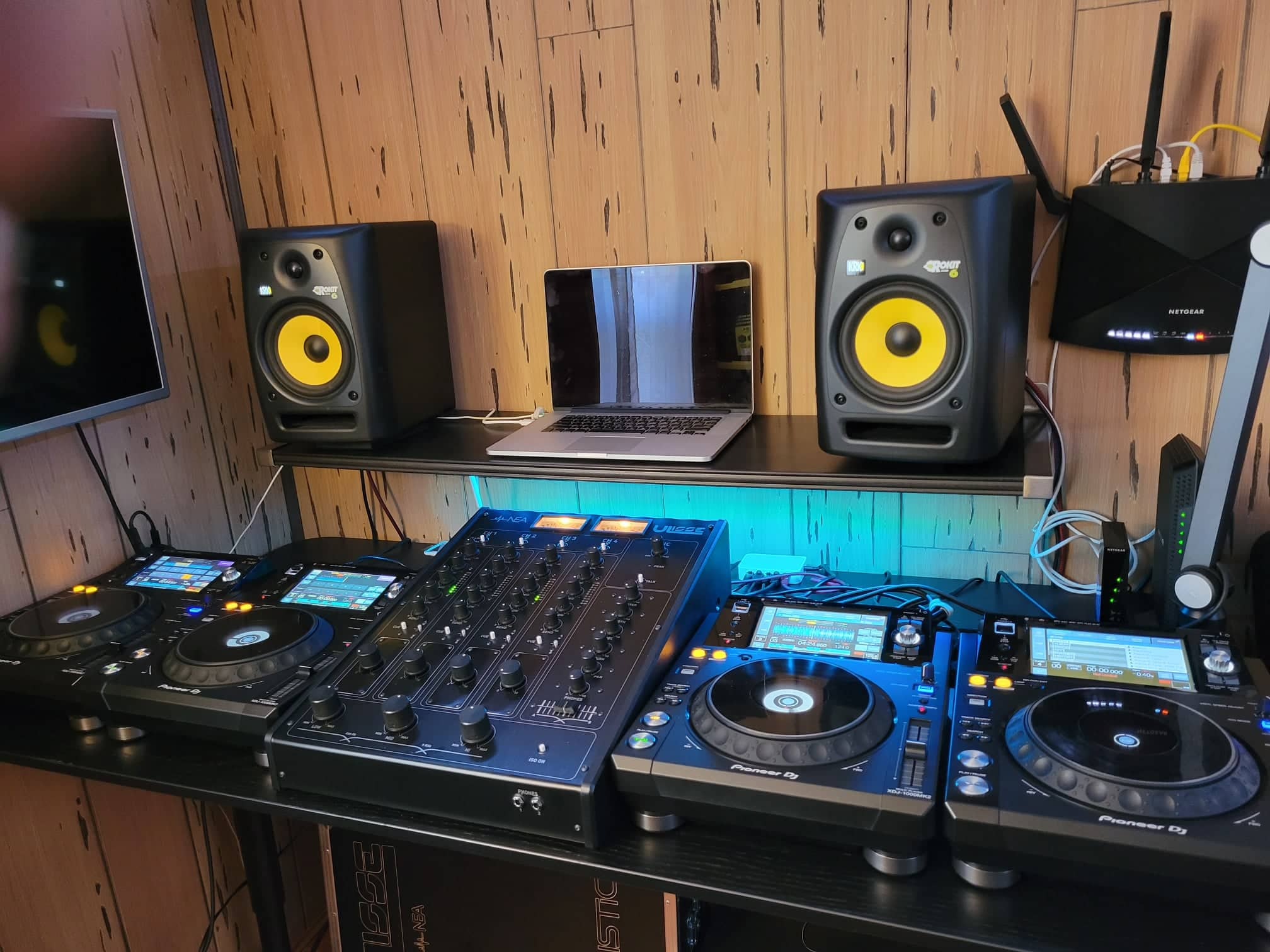 So after playing on this mixer I quickly learned that the hype was well deserved and that I had a serious mixer on my hands. Definitely worth every penny I spent. The NEA Ulisses is a fully rotary mixer with built in Isolator on board and the quality of the build is of the highest standard that I have ever scene in a mixer. The best way to describe it is like Kerri chandler said:  "it is the Ferrari of mixers and second to none. I know people who would steal their kids Christmas fund to have one of these LOL.
Not only is the size of this thing a beast but it truly is like a work of art. Simply put it gorgeous with it's big knobs and retro feel. You'll be standing over it with your mouth wide open in awe. As if that isn't enough, NEA has Taken a completely no-comprise approach to the design and components used to build this mixer.
Yes, I know some of you love classic rotary mixers such as the Urei and Bozak which were built in the '70s and can cost an arm and leg today, but they are very much a part of history and are missing the modern conveniences seen on today's high-end mixers.
NEA clearly has thought of this with the Ulisses because it checks all of the boxes off as far as sound quality and rotary controls are concerned, Not only is this the best sounding mixer I've ever heard but it also has many dope features compared to its old skool counterparts.
Oh did I also mention the interchangeable faders and rotors as well as a crossfader! As well as a built in send and return for effects and onboard Isolator.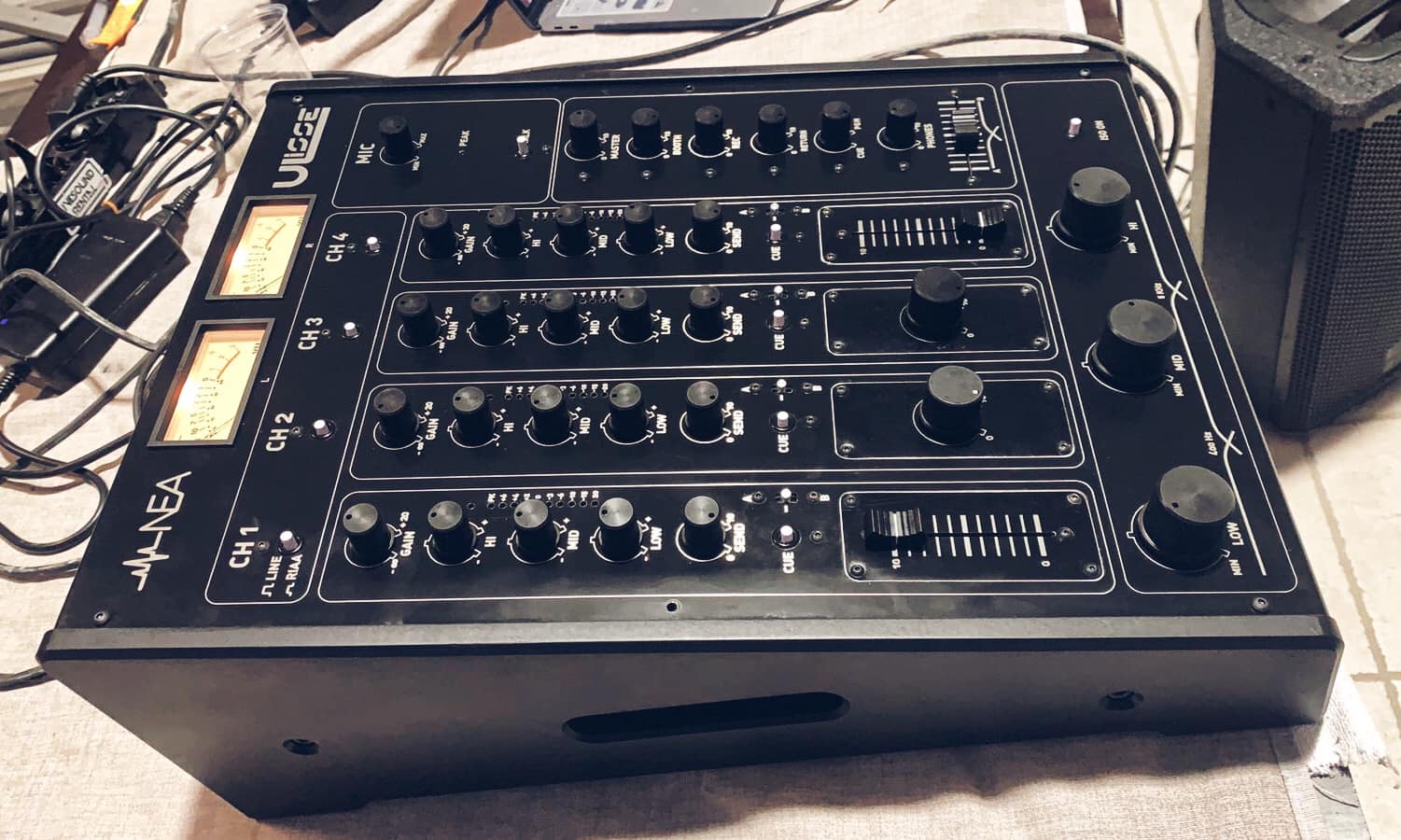 The NEA Ulisses is a four-channel mixer, each channel has a gain, three-band EQ, and is equipped with on board Isolator. The knob caps used for the channel faders and Isolator are absolutely beautiful and the action of the knobs are as smooth as butter with an almost automated feel as they glide flawlessly with every twist.
The large Isolator knobs give you precise and accurate control over low, mid and high frequencies. They will  have you bringing out your inner Joe Claussell in no time! For those unfamiliar, Isolators are the sort of high-end EQs used by mastering engineers, and when used properly can make a track sound absolutely amazing.
This Ulisses Mixer is so dope that i didn't just want everyone to just take my word on it. I recruited a few friends to come by and check it out. NYC legend Danny Buddha Morales Who stated that the Ulisses is the best mixer he's ever seen. Again a Dj/producer legend with over 30+ years in the industry.
My Boy and Long time Newark, NJ DJ Mike Chapelle who is also a URI owner who stated the Ulisses is by far the most prolific mixer he has ever played on and the sound quality of the mixer is the most amazing he's ever heard.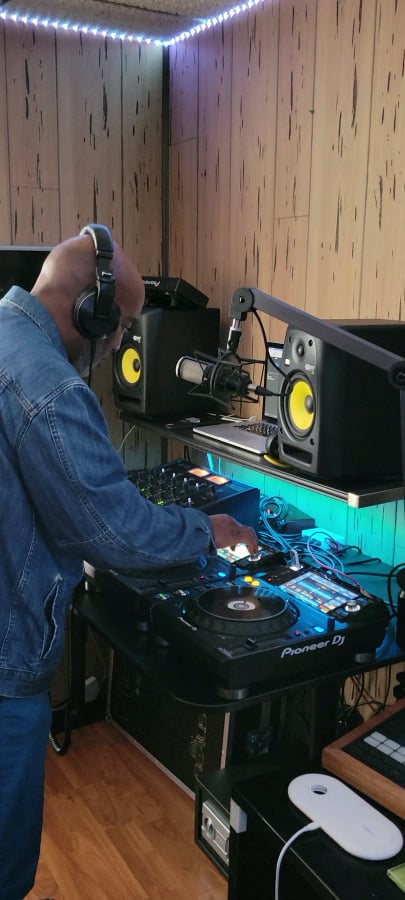 In closing I have to say this, The Ulisses is definitely niche product and an investment. In the age of EDM slider slamming DJ's effects driven mixes this mixer might not be right for you, but for DJs who like long mixes and precise blending, the Ulisses is a slice of heaven and a dream come true. It will literally have you floating as u play and forcing yourself to stay off it to play with the kids. The quality is out of this world, the way the Ulisses looks is simply stunning and the design and spacing of the control surface is absolutely flawless. For those who are looking for the best of the best, there is no doubt that the Ulisses should be a top contender on your list of must haves when it comes to looking for the ideal mixer.
Pros: This Mixer will be with you forever and you'll never ever complain again. This mixer is second to none.
Gripe: The cost. Coming in at 3,000 euros plus shipping. But once you get over the sticker shock and realize what you actually have, you'll get over it and smile while doing it.
To learn more about NEA Ulisses visit https://www.neamusicinside.com/