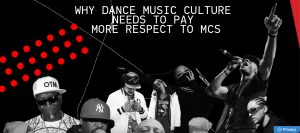 MCs have been instrumental to the development of dance music and are the life force of many of the world's most incendiary raves
MARCUS BARNES
30 JANUARY 2023
If you've ever been to a garage rave, a drum 'n'bass event, a dubstep show or any number of grime or drill parties, you will have experienced the visceral power of the MC. The so-called Masters of Ceremonies are an intrinsic aspect of rave culture in the UK, descendants of soundsystem culture, which lies at the very foundations of British electronic music. Their command of the stage, connection with the music and their dexterity as intermediaries between the DJs and dancefloor are essential components of parties up and down the country.
MCs have been instrumental to the development and growth of dance music from its very beginnings, and the key figures and their contributions to music and rave culture deserve at least the same respect awarded to exalted DJs and producers.
THE ORIGIN OF MCS
To begin, it's crucial to understand the history of MCs, their origin and their standing within the context of soundsystem culture. We can trace the lineage of MCing back to Jamaica, where soundsystems originated. Initially the artform was referred to as toasting, with those who held the mic at dances known as deejays. In a manner that would be considered primitive in comparison with today's MCs, the deejays would interact with the crowd and use simple, catchy rhymes along with call and response, to accompany and embellish the music being played. In those early days, around the late '60s and early '70s, deejays were mostly confined to the dance hall. Later on, some of the better known deejays began to transfer their talent to vinyl and the first "deejay" records appeared. Deejays became an intrinsic part of soundsystem culture, and the discipline evolved into a variety of avenues; from the hosts who would command the stage with sheer presence and confidence, hyping the crowd with their big booming voice alone, while others became fully fledged recording artists.
Navigator, originally known as Specky Ranks in his youth with the iconic Unity Sound, witnessed the evolution of MCs from those formative years, all the way up to his own entry into the world of lyrical performance. "Essentially I come from soundsystem [culture], which was inspired by Jamaican DJs on the microphone. That's what I listened to as a kid growing up — after listening to ska, rock steady and blue beat, which was my dad's music," he says. "Then the whole Studio One thing came in and then reggae, and then the dub music, and then the early rub-a-dub dancehall and then digital dancehall."
Navi joined Unity Sound, one of the most respected soundsystems in London, in his late teens and, alongside the Ragga Twins, began to earn himself a sterling reputation. Schooled in the often harsh, unforgiving environment of soundsystem culture, he channelled all the music that he'd absorbed in his youth into his own style and earned his stripes through grafting and honing his craft.
Stateside, soundsystem culture also spawned the birth of hip hop in New York, where Jamaican-born Kool Herc set up his own sound 'Herculords', which laid the foundations for hip hop way back in the early '70s.
Reggae and hip hop are the main strands of DNA that form the nucleus of contemporary MCing in the UK. Mixmag spoke to some of the nation's most influential MCs and every single of them mentioned hip hop, reggae or dancehall as early sources of inspiration. From MC Conrad, whose earliest influences came from his father's record collection of ska, rocksteady, bluebeat and reggae to PSG, whose brother was a scratch DJ, to Eksman, who took inspiration from the legendary nineties soundtapes that were brought over to London from Jamaica: Bass Odyssey, Stone Love, Killamanjaro, King Addies and many more. These external influences were pivotal in the development of Britain's rave MC culture. Initially, young Brits emulated what they were hearing: UK soundsystems with their own deejays, and music selectors playing on one hand and rappers teaming up with scratch DJs on the other.
In Harlesden, West London, garage stalwart CKP was brought up on a diet of UK soundsystems, "Saxon, Coxsone, Volcano, Java, Unity soundsystem," he explains. "The MCs that I gravitated to were the ones that got the crowd hype and ones that had lyrics — Tippa Irie, Papa Levi, Rusty, Daddy Sandy, Demon Rockers, Flinty Badman, Navigator… guys who were on a soundman ting."
These names, and several others up and down the country, built the foundations of modern day MCing, and several of these pioneers were right there at the birth of jungle.
Jungle sparked the emergence of Britain's first wave of MCs that adhere to the archetype we are all now familiar with. Throughout the early days of acid house and rave there were people who hosted and, in the tradition of toasting, used simple rhymes ("Sweet like the sugar, hot like the pepper") and/or used call and response ("Who says rewind?!"). Likewise, you could hear acts like The Ragga Twins working with Shut Up And Dance and numerous other MCs, chatting and rapping on dance tracks. In the world of hip hop, several keys acts emerged in the mid to late eighties who helped establish the UK's take on America's MC culture; among them London Posse, MC Duke and Derek B (RIP). However, it was the birth of jungle that was the main catalyst behind the evolution of the art of homegrown British MCing and created bona fide personalities in the process. "Before garage I wanted to be a jungle MC," says Mighty Moe of Heartless Crew. "I was really impressed by the big voices: MC Det, Stevie Hyper D… Shockin was a great MC, he was very versatile."
Jungle had a huge impact due to its uniquely British sound. It was the first time the UK had a electronic genre truly of its own, with MCs spitting bars that merged local vernacular and patois spliced with street slang and hints of US hip hop — a hybrid of influences, just like the music itself, that reflected the inner city environment it sprang from. "That's why jungle and garage were so impactful – it was very British and people felt like it was their own thing," says Mighty Moe. "It was an original thing that came out of the cultural mashup over here."
Jungle was a natural bridge between the influence of Jamaica's trailblazing diaspora, both in the UK and the US, and European innovation. Once those reggae basslines and samples made their way into the music it began to really resonate with the Black community in the UK, encouraging many of those who'd initially shunned rave culture, to get fully involved. Jungle emulated Jamaica's soundsystem template, with MCs who developed unique styles and cultivated their own fanbase; and one of the most diverse and influential was the late Stevie Hyper D.
Hyper D's ability to ride the riddims with a broad range of styles – from double time to singing – combined with his ceaseless energy, confidence and charisma, put him up there as one of the greats. A forthcoming documentary celebrates Stevie's life and achievements, demonstrating how intrinsic MCs are to British rave culture and documenting the timeline of soundsystems evolving into early rave. Stevie Hyper D: The Hidden Influence is produced by Jamie Ross-Hulme and written by Stevie's nephew, Darrell Austin, who also appears in the film. "We titled it Stevie Hyper D: The Hidden Influence because he was hidden from the limelight," says Jamie. "It was a subculture where you didn't you didn't see the people on TV, you only ever saw them in the rave. My drive is to highlight that period of time, and then highlight this really unique person at that specific moment. He was the last of our generation that was pre-internet."
"When I did my first film with Navigator I realised that our culture wasn't really being documented as it should, and being such a big fan of hip hop, I saw the same lineage going back to Jamaican culture through to Tinie Tempah and now the likes of Stormzy and all of those people," Jamie explains. "The aesthetic of a British mic man, it's all linked back to the same thing, which is rave culture and soundsystem culture."
Stevie's legacy lies within countless MCs working today, many of whom appear in the film: from So Solid Crew's Mega Man and Lisa Maffia, through to Evil B, Bushkin and Mighty Moe, Eksman and more.
"Hearing Hyper D for the first time on Kool was the thing that made me actually reach for the mic," says DMZ core member SGT Pokes, recounting the story of hearing Nicky Blackmarket and Stevie Hyper D's debut show on Kool FM, way back in 1995.
Lady MC, the first woman to MC on Kool FM, also cites Hyper D as key inspiration, as well as MCs such as Deemas J, Moose and Chickaboo. "I was into lyric writing since I was 11, but in particular being an MC started from being a raver, and being obsessed with the music," says Lady MC, who now goes by the name Indigo Reign. "I love the music, the culture, and being about to [hype up] a crowd and support the DJ." Jungle wasn't always the most welcoming scene to women — "I faced a lot [of obstacles]; some quite traumatic and abusive," says Lady MC — but she became a prominent name in the scene from the mid-'90s, alongside DYER MC and Lady ST, and later MC Tali, following in the footsteps of Chickaboo who started her trailblazing career in 1992.
Their ensuing influence can be seen in the contemporary scene and the rise of the likes of Miss Melody, Y-Zer and Starz & Deeza, who formed their MC partnership after Starz joined Deeza on a radio show Lady MC was also featuring on. "I've always loved MCing and rap and when I discovered d'n'b as a teenager, I fell in love with the high energy bars the MCs would drop," says Starz. "I was influenced and inspired by Shabba D, Skibadee, Funsta and Navigator," adds Deeza, whose first love was West Coast rap, before "drum 'n' bass influence made me an MC."
Over the years, though, MCs have had their fair share of detractors, and, sadly, haven't always been at the forefront when it comes to press coverage. In particular, those who focus mostly on the rave circuit haven't had the media attention they deserve. An absence of recorded material or their own promotions and parties, is part of the reason why.
"I saw a whole wave of DJ/producer types forthcoming. And my job was to then work out how I was going to find my way within this [culture] without just being a bit of a vocal sample or addition," Conrad explains, speaking about the early days of rave when he wanted to build a career as a recording artist.
Conrad also comments on the issue of recording rights and PRS, the fact that there is a glass ceiling for MCs and that most of them get paid (a lot) less than the DJs they work with. However, he adds, "It's forcing people to do things that are disruptive, good disruption. And, with that, will come evolution."
DJ/MC partnerships have been a constant feature of garage and jungle: Conrad & LTJ Bukem, Brockie & Det, Andy C & GQ, DJ Rap & MC MC, Nicky Blackmarket & Hyper D, EZ & CKP, Dominic Spreadlove & Creed, and more. While, in recent years, crews like SASASAS (Harry Shotta, MC Shabba D, Skibadee) have assembled to champion the art of MCing. Eksman and Evil B formed Problem Central, holding down the first ever MC crew residency at XOYO in June, while Eks hosts his own Next Hype parties – an incubator for the next generation of drum 'n' bass MCs and DJs. Elsewhere, Rebelclash (formerly known as Rage and former frontman of Chase & Status) hosts his own parties, Dance Haffi Nice. These collectives, and event promotions, give those involved more control and more prominence within the culture. By staking a claim on their own independent brand, MCs can establish their own platform and, in the process, take their careers to the next level.
"With drum 'n' bass it's only probably in the last two, three years, that the MCs have finally come together and we're trying to put out our own releases to do our own thing,' says Eksman, adding that there has been talk of MCs getting together and putting their own music for "years and years".
Dynamite MC says: "From when I started to take myself seriously as a musician, I decided that I didn't want to just be a DJ's plus one. This is why I've been in the studio with The Nextmen, Krafty Kuts, Zinc, Andy C, High Contrast, Elephant Man, Caspa, The Allergies, Missil, Document One, DRS and all kinds of musicians from different genres. And doing Dynamite shows, doing a national radio show and making sure that I have my own platform, and my own kind of soapbox to stand on and talk to whoever wants to listen, rather than waiting to be added to someone's event."
"It's difficult, it's tough, but you definitely have to carve out your own lane. But that should be motivational. You can choose to compIain, that's a route, or you can choose to strengthen your own career so that you can't be sidelined," he adds. "Because we're still at the front of the stage, we still have a great connection with the crowd. Sometimes the DJ is way, way, way at the back. So swings and roundabouts."
PSG explains that his motivation has always been centred on working the crowds on the club circuit. He appeared on 'Good Rhymes' in 1998 with Creed and MC Viper as Da Click, but has mostly remained dedicated to live performances. "When I first started, it wasn't to be an artist, it was to get on the mic with the DJ, and rock the crowd, like how Ratpack and all the ones that were there before me did it. And that's why I did it. And I've never lost sight of that," he says.
"You could have a rave without an MC but you can't have a rave without a DJ. I've always understood, as an MC, I'm just rocking the crowd. I'm the icing on the cake – the DJ is the guy and you complement his set," he adds. Though he does also acknowledge that there could be more recognition for MCs, regardless of their position.
On the flipside: early on, garage pioneer Creed set up his own agency, purely to support vocalists. He founded Vocal Fusion in 1997, "I had every MC on my books", and released three LPs with Pure Silk Records. He emphasises the way in which rave MCs can elevate their status by putting their energy into releasing records.
"When you MC, you might be working in a place that's got 1,000, 2,000 people, sometimes 4,000 other people, right? In one night, you could be doing five gigs. So, you might be in front of 20 or 30,000 people, if you're lucky," he explains. "But the thing is, you do one record, and that record is a hit – it'll be played all over the world, by all different DJs. You can only be in one place at one time, but your record can be in 50 different venues or 100 different venues in that one night.
"I tell every MC, if they want to get up there and they really want to make it, they've got to learn how to make music. That's going to spread your message a lot further than just doing a gig," he adds.
MEDIA DISCONNECT & HISTORIC UNDERREPRESENTATION
A disconnect between members of the media and the street culture from which many of the MC-oriented genres have sprung, is also part of this lack of representation. Drum 'n' bass is still largely underrepresented in comparison to house and techno, its MCs even more so. "It takes someone that loves our world and what we do, but is part of another world, where they have the power to document things," says grime artist and Top Boy actor Nolay. "Chantelle Fiddy was one of those people back then, when she used to get us our press."
In the same way that MCs can be misunderstood and viewed by some as an annoyance, so too can the music itself by people who simply don't understand it — particularly in more mainstream publications. Issues around race and class play a key role in this disconnect, with a historically inherent lack of diversity within the media itself resulting in often skewed reporting, weighted towards the personal tastes and experiences of reporters and editors.
In the past, as many of the older generation will attest, MCs were often either sidelined with minimal presence on posters and flyers, underpaid, and sometimes not even represented at all. "We always suffered from that. A lot of times, in the early '90s, promoters wouldn't even put the MC on the flyer, they would just put the DJs," says Creed, one of the godfathers of UK garage MCing. His legendary sets with Dominic Spreadlove at the Gass Club in London's West End inspired a generation. "If you look at Spreadlove at the Gass Club, my name ain't on the flyer. Mine and Dominic's set was the biggest set. We were the biggest attractions to that rave, but, at the end of the day, my name wasn't on the flyer."
Darrell Austin points to the historic underrepresentation of mic men and women, going way back to the early days of soundsystem culture in Jamaica. "Even though the MCs, Smiley Culture and all these guys made their names, it was the selectors that were the guys," he says, recalling his uncle being booked to perform for soundsystems with his crew, Five Man Army, and them being given a £10 bag of weed as payment. "They'd turn up, kill the sound, make my man's party sick and get a £10 bag of weed. I think it's always been part of that culture that no one really respected the MCs. Even in Jamaica, they were ripping them off, left, right and centre."
"They'd turn up a session studio, get given a few hundred dollars, rinse it out for three hours, give them four or five tracks and those tunes would get pressed on 7"s and sent to England, making the label a shitload of money," he adds. "So the culture of the MC has been disrespected going back to its foundation." Dubstep originator SGT Pokes, another graduate from the "School of Kool", notes that the DJs themselves could utilise their status to elevate their MCs. "The MC spends a whole set telling everybody how amazing the DJ is, and how lucky they are to be with that DJ. I think the bottom line is that the DJs don't celebrate the MCs enough," he says. "DJs could do more (with promoters etc) to be like, 'Yo, like, this guy rolls with me, so respectfully, you have to deal with him properly'. I mean, as an MC, you already know what the dynamic of the thing is — you're going to be up there talking, you're going to be the face of the set and the DJ is probably going to walk away with at least three times the money the MC gets for performing most of the night."
"My opinion is that the DJs and the producers feel threatened by the MCs because we're front and centre stage, they think we kind of overshadow them. So they feel as though, 'You're taking away our shine'," Navigator says. "And that's the reason why MCs don't get the respect and don't get the coverage that they should do. Over the last 12 years I've been pushing and telling MCs when they holler at me and say, 'What do I do?' I say, 'Get in the studio, record tunes and videos and promote the artistry of the vocalist, because nobody's gonna do it for you.'"
"MC culture, personally speaking, I think has been more of an influence on UK culture, in terms of music, than the producers and DJs," he adds.
Navi helms workshops, where he teaches up and comers about the roots of MCing, which he traces back to pioneers like James Brown. His vital work allows him to impart his knowledge, gained across five decades, to a new generation, keeping the lineage intact and ensuring that the history is imbued with clarity and passion.
Of the UK's many MCs, one of the most prolific recording artists, and most successful, is Dynamite MC. As part of the Full Cycle collective from Bristol he was intrinsic to their Reprazent project, the voice of classics such as 'Brown Paper Bag', and a consummate professional ."I grew up buying vinyl and hearing song structure. So there was always that part of me that wanted to write something and wanted to capture that music, that time," he says. "I didn't just want to just club weekend after weekend after weekend, and that was it. If you weren't there, you didn't hear it. And if it wasn't recorded, then it's forgotten forever. So there was a sense of… I wanted to make a great song, a great record, a great track, and I still do, I'm still continually looking for the perfect song."
Dynamite has consistently translated his craft to the studio, successfully shifting into garage, hip hop and other genres, which compounds his stature as one of the greats. Similarly, Navigator has also been prolific in the studio, both men proving that it is possible to utilise skills that are developed and refined in the live environment for recordings. The energy MCing in raves is something that simply cannot be replicated on a record, it has to be experienced first-hand to be truly understood. However, the cache, reach and visibility that an MC can achieve through releasing singles, EPs and albums can be crucial to their growth.
Navigator's discography dates back to 1993 and includes a solo LP, plus a long list of singles and EPs, collaborating with a wide range of international producers. He also assembled the Rawhill Crew, an all-star MC collective that released 'Mo' Fire' in 2003. Meanwhile, Dynamite has a similarly extensive back catalogue working with everyone from Krafty Kuts to DJ Marky. Two prime examples of MCs who have honed their craft for the studio and been successful in making the transition, while also maintaining a presence on the frontline at raves.
On the topic of press coverage and whether it's even important, Dynamite is adamant that it can be critical in introducing artists to new audiences and elevating their careers. "At the end of the day, you're just trying to expand your reach. And, when you publish this article, someone's going to be reading it, who has maybe never heard of me whatsoever. And they might say, 'Okay, let me go on to Spotify and see what this guy's about'," he says, before explaining that, during his time with Roni Size Reprazent, he was exposed to audiences at events like the Montreux Jazz Festival, "reaching audiences that wouldn't typically go out and see a DJ".
"That allowed us to increase the reach for ourselves and also for the scene," he notes. "So even if you do write a piece on MC XYZ and you think, 'That didn't really do much', there's someone who's gonna read it. Someone might get inspired and start having dreams and aspirations of becoming a musician themselves. You never know how far these ripples reach."
​GRIME & THE NEXT PHASE OF MCING
Throughout the past three decades, MC culture has grown and shifted, making stars of some of its exponents. Over the past 20 years, one of the most significant shifts in the evolution of British MCs has been the explosion of grime. Following on from the MC crew-led latter stages of UK garage (So Solid Crew, Pay As U Go et al), grime marked a big step forward for UK MCs as they took centre stage and, more importantly, invested time and energy into putting records out. "The only way you can progress, as a dance MC, is through having releases," says Pokes. "When the grime guys came through they really started doing their thing and they were making the most of P&D deals and things like that – they didn't have to go through labels to get signed."
"Grime just dominated and took over everything. The attitude that [grime] MCs brought inspired a lot of the MCs in other genres and showed that you could actually do that stuff," he adds.
Grime saw MCs achieve a level of prominence that placed them ahead of the DJs, for the first time. Their roots lay in jungle and garage, with figureheads such as Wiley and D Double E starting out in d'n'b and UKG before they became innovators in grime. More recently, UK drill also formalised as an MC-led genre, emulating the US rap model, with producers and DJs supplying the instrumentals for crews and individuals to spit bars over with more emphasis on recorded material, music videos, cyphers and club PAs, as opposed to rave sets. A generation of MCs came through, who were way more savvy and proactive when it came to marketing and navigating social media.
An entire era of MC history, groundbreaking activity, may have been largely neglected in terms of documentation but all the energy and graft that went into igniting the nineties raves still reverberates to this day. Today, we see Stormzy headline Glastonbury, Skepta on the cover of GQ and winning the Mercury Prize, following in the game-changing footsteps of Ms. Dynamite and Speech Debelle, and numerous other UK lyricists celebrated and revered for their work in every facet of the media. All of these MCs are the descendants of artists such as Navigator, the Ragga Twins, Tippa Irie and a whole host of other pioneering mic men and women, who laid the foundations for others to build upon.
Whether the music press gives more credence to MCs or not, ultimately it's their connection with the fans, the diehards, the champagne bubblers and junglist soldiers, that is most important to their livelihood. As we saw with the huge outpouring of grief when Skibadee passed away last February, MCs are the linchpin at many of the world's most incendiary raves. Without their professionalism, lyrical agility and unwavering energy, there would be a void.
Marcus Barnes is a freelance writer and regular contributor to Mixmag, follow him on Twitter