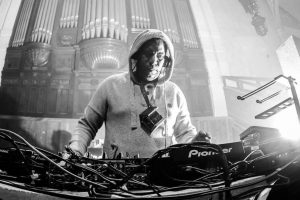 A trip through the timeline of dance music
HARRISON WILLIAMS,    21 FEBRUARY 2017
Dance music was built on love, unity, respect, and inclusivity. Mixmag is celebrating Black History Month by honoring electronic music's most cherished and revered artists who embraced these founding values.
Last week we showcased the women who shaped dance music and before that, the heroes of Detroit techno. This week we turn our attention to the pioneers of house music who innovated with textures and rhythms to establish the foundation of a genre that has been consistently in the spotlight.
Born in underground clubs in Chicago, house music's roots are firmly cemented in LGBTQ and African American culture. During its formative years, clubs like the Warehouse, The Power Plant and Paradise Garage were places for marginalized groups to come together, uniting with music as a shared passion. As the culture began to evolve, the house sound spawned from disco with many DJs at the time looking to boost the funky melodies with more energy, revealing a jacking 4/4 beat that would become the genre's staple rhythm.
Here Mixmag highlights a collection of artists who helped guide house when it was first beginning to take hold. Check out the leading trailblazers below.
FRANKIE KNUCKLES
Frankie Knuckles is a name synonymous with house music. Known as "The Godfather of House", he played a critical role in developing the genre during the '80s. The essence of the house sound is said to have came from him, with Jesse Saunders, who is credited with producing the first original house track, saying of Knuckles, "he is the one we get all our inspiration from".
Having been born and raised in New York City before moving to Chicago, Knuckles' influence on dance music culture was widely felt. Once in Chicago, he found his way to the freshly minted Warehouse and quickly established himself as the resident DJ. House would gain traction in the scene there, but Knuckles branched out to open his own club, The Power Plant, in 1982.
'The Whistle Song', 'Rain Falls' and 'Workout', among others, are all iconic Knuckles productions and are recognized for their influential power as well as their use on today's dance floors.
JESSE SAUNDERS
Credited with producing the very first house record, Jesse Saunders helped inspire a movement in Chicago during the mid 80s. When 'On and On' was released in 1984, dance music was transitioning out of disco to more harder edits with rhythms like the one Saunders producers.
Not just a talented man in the studio, Saunders guided house music in more ways than one, opening up his own nightclub, the Playground, a space that rivaled the Warehouse of Knuckles fame. Here is where he would let his artistic vision grow, showcasing various original releases that would establish the foundation for house music of the future.
Other seminal house records produced by Saunders include 'Funk U Up', 'Real Love', 'Love Can't Turn Around' and 'Dum Dum'.
LARRY LEVAN
Although known primarily for his eclectic DJ sets during the disco era, Larry Levan's influence on house music and DJ culture helped the scene flourish in New York City. He was a close friend of Frankie Knuckles and the two artists learned the art of DJing together from Nicky Siano, the owner of the legendary disco club The Gallery. Levan's skill in the DJ booth would gain the attention of David Mancuso of The Loft and also earn him a residency at the iconic NYC venue Paradise Garage.
Although Levan's career was clouded by drug addiction for some time, he made a comeback in the 90s when he travelled to London to perform at Ministry of Sound. He would spend an extended amount of time there and helped tune the MoS sound system.
MoS co-founder Justin Berkmann expressed his sentiment on how important Levan was to dance music: "Each generation and industry has its seemingly divinely inspired geniuses. Galileo, Picasso, Gaudí, Jobs and I believe Levan is worthy to be added to that list. He invented nothing particularly, but his modus operandi influenced a generation of DJs."
RON HARDY
When Frankie Knuckles left the Warehouse, later renamed The Muzic Box, Ron Hardy was there to fill his shoes and he did so with a completely different style, which had a profound effect on house music. It is said that he played records at a drastically pitched up speed than others who came before him and this would influence the vigorous nature of house music years later.
DJ experimentation was pioneered by Hardy, who would manipulate records to his liking, something that wasn't often being done. His sets were harder than those of his peers and with that in mind, DJ Pierre gave Hardy the first Phuture track, dubbed 'Acid Tracks', that also possessed different textures than previous releases.
Although Hardy's life was cut short due to heroin addiction, his innovation as a DJ inspired many in the scene. Marshall Jefferson spoke on how he was mesmerized by Hardy's creativity: "Ron Hardy got up there like, 'I'm the king of this bitch!' All of those mixes he did were done on the fly, no edits. He moved faders up and down, using all fucking ten fingers on 'Move Your Body'. Did the whole thing straight through, four fucking passes."
Later, artists like DJ Harvey, Theo Parrish and more would pay tribute to Hardy with a series of edits and remixes.
LARRY HEARD
If Frankie Knuckles is considered the godfather of house, then Larry Heard is the father of deep house. With a catalogue of releases that include timeless tracks like 'Can You Feel It?', 'Mystery of Love', 'Closer' and 'Bring Down the Walls' among others, it's clear he was a musical visionary who had a way with delivering smooth and emotive material.
With a jazzy motif, Heard fused house rhythms with more soulful roots. In a later interview, he mentioned how his creative process needed complete focus: "Some folks can have a whole crowd of people around them, and that just doesn't work for me. I need to get to a quiet place with myself and the sounds and go from there."
Larry Heard has produced under many aliases during his career, including Fingers Inc., Mr. Fingers, The It, House Factors, Trio Zero, Loosefingers and Fingers. His label, Alleviated Records, is home to much of his material.
STEVE "SILK" HURLEY
When house music was beginning to rise from the underground, Steve "Silk" Hurley was the most successful producer to top the charts. His earliest releases, including 'Music Is the Key' in 1985, 'Shadows of Your Love' and 'I Can't Turn Around' in 1986 and 'Let the Music Take Control' in 1987 all breached the top 10 on the US Dance Chart. 'Work It Out', which was released years later also received high praise from the masses making it to #3. That said, the popular 'Jack Your Body', which was released in 1986, didn't do exceptionally well compared to his other tracks in the US, but landed at #1 in the UK, the first house track to do so.
As a DJ, Hurley's skills were groundbreaking in that he found creative ways to liven up the dancefloor by using DJ tricks adapted from hip-hop. This would be his way to break through in the scene, as he pointed out in an interview with 5 Magazine: "I probably paid more dues as a DJ than anything. I worked countless hours on my skills, trying to learn and invent tricks, and working on my scratching. I wanted to get good enough to win a DJ battle, because no matter how good I got, nobody would let me spin at any of the parties, not even for free! That ultimately ended up being my way in."
Having won four Grammy's during his career, Hurley's success as a producer is well documented. To this day, his music remains a staple in in clubs around the world. 'Jack Your Body' being a tool used by many, it's safe to say he's a certified legend.
FARLEY "JACKMASTER" FUNK
As part of the DJ crew Hot Mix 5, Farley Jackmaster Funk was an important tastemaker during the early years of house. In the Unsung documentary, Farley recalled what it was like reinterpreting disco tracks for the club scene: "Those songs didn't have structure, but the beats were killing. We brought our drum machines to the club and created electronic 4/4, it just made disco sound very thunderous."
The influential Hot Mix 5 also include Mickey "Mixin" Oliver, Ralphi Rosario, Kenny "Jammin" Jason, Scott "Smokin" Silz and Julian "Jumpin" Perez.
In 1984, Farley released what would be the model house record with 'Funkin with the Drums', which he soon followed up with 'Jack the Bass', 'Funkin with the Drums Again' and 'Give Yourself to Me', all of which focused on jacking rhythms that would heighten the house craze in the Chicago dance scene.
Later, tracks like 'Love Can't Turn Around', 'Jack My Body', 'It's You' would also showcase his unique, whimsical production style.
KYM MAZELLE
Although the house music scene was spawned from the LGBTQ community, mostly with African American men, Kym Mazelle led the way for female artists in the house movement. Her sensual and soulful vocals were first on display with the original 'Useless (I Don't Need You Now)' produced by Marshall Jefferson in 1988. It possessed all the makings of a quintessential house track, steady jacking rhythms with an overall raw motif making it a dance floor bomb.
She continued to be a prominent figure in the scene with collaborations with Soul II Soul and Robert Howard, plus numerous originals found on labels like Parlophone, Capitol Records, EMI and more helped keep her in the spotlight throughout her career.
PHUTURE
Phuture, which consisted of DJ Pierre, Herb J and Spanky, was a prominent Chicago trio during the early years of house, regarded as the originators of the acid house genre in particular. The seminal acid tune, titled 'Acid Tracks', gained early popularity partly due to the fact that it featured sound textures that had not been widely utilized before and also because Ron Hardy rinsed it during his DJ sets at The Muzic Box.
The trio would go on to expand on their distinct sound with tracks like 'Slam, 'The Creator', 'We Are Phuture' and more. Plus classic house tunes like 'Spirit' and 'Mental Breakdown' helped broaden their output. As this was club music of the highest degree, Phuture's music can be found on imprints like Strictly Rhythm, Trax Records and Dance Mania.
For more on Phuture's music, check out Mixmag's Best Of Phuture playlist.
ROY DAVIS JR.
Although he came to prominence a few years later than his peers, Roy Davis Jr. is known as a key figure that brought deep house music into prominence during the 90s. He worked as A&R for Strictly Rhythm during this time, also joining Phuture from 1990-1997, a time period that included releases like 'Spirit', 'Rise From Your Grave', 'Mental Breakdown' and 'Inside Out'.
In 1997, Roy collaborated with Peven Everett on a track that is widely regarded as arguably the greatest garage house track of all time, 'Gabriel'. As the story goes, it only took him 14 hours to produce the track and the rest is history. Not to mention his work with Jay Juniel on the Men From The Nile project, delivering the tribal track 'Watch Them Come!!!', also featuring Peven Everett.
Roy also spent an extensive amount of time working with Thomas Bangalter of Daft Punk during the formative years of his Roulé label and has worked with artists like Mary J. Blige, Seal, Faith Evans and more.
MARSHALL JEFFERSON
With a multitude of producers in Chicago expanding on the house sound, some reached early success before others. Marshall Jefferson was one that hustled to be heard and his music still stands the test of time. His earliest productions landed on the influential Trax Records imprint and are among the most iconic releases of early house music, including 'Move Your Body (The House-Music Anthem)', 'Ride The Rhythm' and 'Lost In The Groove'.
When sharing the story of The House Anthem, Jefferson shared a story with Test Pressing from when he initially finished the track and handed it off to a soon to be legend, Ron Hardy: "I went into the Music Box and gave DJ Ron Hardy a copy while he was playing. I didn't expect him to play it right away; usually i just gave him a copy and he'd listen to it later and maybe play it the next weekend. This time he put it in the cassette machine right away. I saw his head quickly go into a violent bobbing motion and I knew he liked the song. He immediately put it on and played it 6 times in a row, putting on a sound effects record while he rewound the tape."
Today Jefferson is still present on the scene, collaborating with Josh Butler for the first release on his Heroes of House release series. Mixmag premiered the track titled 'In Time', listen here.
Harrison is Mixmag's East Coast Editor. Follow him on Twitter here