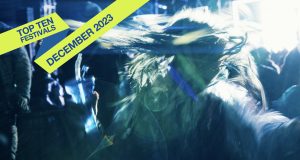 We close out the year with festivals in Australia, India, Brazil and beyond.
Meredith Music Festival
Meredith, Australia
December 8 – December 10
Nothing encapsulates the warmth of Australia's Meredith Music Festival more than the fact that all of the communications come from "Aunty Meredith"—except maybe the animated koala bears that clamber up the home screen of the website. Located 90 kilometres outside Melbourne, the Meredith site resides in a natural amphitheatre, refined over the festival's 31-year lifespan and featuring a crown of pine trees built in the '50s by the founder's grandfather. This year, the sponsor-free event continues its celebration of "music, nature and humans having a wild time" with a lineup that includes Kraftwerk, Eris Drew & Octo Octa, Sneaky Sound System, Flowdan, Caroline Polachek and Mary Lattimore.
RA Pick: The energetic and disparate selections of Yuggera DJ and radio host dameeeela.
Wonderfruit
Chon Buri, Thailand
December 14 – December 18
An annual gathering of art, music and nature, Thailand's Wonderfruit boasts a sprawling lineup that's more than a match for many of its European and North American counterparts. For 2023, the 20,000-capacity festival, located in the idyllic Siam Country Club in Pattaya, has tapped everyone from DJ Stingray 313, Helena Hauff and Jennifer Cardini to Terry Riley and Space Afrika. Wonderfruit also places a firm emphasis on sustainability, with all attendees required to bring their own cups to the festival–an initiative that prevents some 200,000 cups from being wasted every year.
RA Pick: The music of cosmic sitar maestro Laraaji seems like the perfect match for Wonderfruit's lush backdrop.
Magnetic Fields
Rajasthan, India
December 15 – December 18
India's Magnetic Fields festival takes place at Alsisar Mahal, a 17th-century palace west of Delhi. The striking, centuries-old location, coupled with a lineup that combines forward-thinking electronic music with traditional local sounds, makes for a festival of contrasts attended by in-the-know dance music fans who embrace its old-world charm. The theme for the ninth edition is "preservation," an appeal to the crowd to protect and revive their surroundings–at the festival and beyond. The lineup features the likes of Unnayanaa, mixtress, Kareem Ali, Jennifer Loveless and Nosedrip. Additionally, Numbers will celebrate 20 years with Spencer and Hudson Mohawke, while on the Saturday night, Resident Advisor's annual takeover will feature Amaliah back-to-back Danielle and local talent Dotdat.
RA Pick: Mumbai artist Sandunes will perform her album, The Ground Beneath Her Feet, live for the first time.
Mareh
Fortim, Brazil
December 26 – January 2
The northern Brazilian state of Ceará, home to Mareh festival, is known for its paradisiacal beaches. At the intimate festival, which is predominantly built on the beach, attendees can dig their feet into the white sand, splash around in the sparkling turquoise sea and enjoy stunning views out across the ocean to a line of wind turbines that loom in the distance. This year's lineup welcomes a colourful mix of house, disco and other Balearic sounds, soundtracked by artists like Ruby Savage, Carrot Green, Cecyza, Vermelho and Paulete Lindacelva. Beyond its music programming, Mareh also invites dancers to take part in wellness classes and sample local gastronomy.
RA Pick: Nick The Record and his infinitely deep bag of tricks.
Beyond The Valley
Wingeel, Australia
December 28 – January 3
Australia's Barunah Plains, the location for camping festival Beyond The Valley, is so picturesque that it's also a popular wedding destination. Taking place from December 28th through January 1st, the country's largest New Year's Eve festival–now in its eighth year–returns with a list of exceptional artists. DJ Heartstring, Jayda G, Lady Shaka and Overmono are only a few of the names on a programme packed with all-stars. Across the event's four days, DJ sets and live performances will be spread out across architecturally built stages with state-of-the-art sound and production.
RA Pick: Hailing from Galway, Ireland, KETTAMA brings a slamming, old-school-meets-new-school rave sound.
Likdo On The Beach
Phú Quốc, Vietnam
December 29 – January 1
Founded in 2022, Likdo is a platform for covering dance music in Asia. To round out the year, the team will decamp to the pearlescent waters and postcard-white sands of Vietnam's Phú Quốc island for a New Year's festival. Featuring local and international artists from Japan, Thailand, South Africa and beyond, the four-day bonanza will take in breathtaking sunsets, three nights of dancing on the beach and other delights, such as dining at a floating restaurant. Powder, Manfredas, Kim Ann Foxman and Alex Kassian are among the international guests, with Ouissam, Di Linh, Zwi and Manikk performing on home turf.
RA Pick: Cora's record bag stretches across trance, house, breaks and more.
Northern Bass
Mangawhai, New Zealand
December 29 – January 1
New Zealand wears its love for bass music on its sleeve. Northern Bass, which takes place in a leafy rural location an hour north of Auckland, brings some of the leading lights from the scene together for three days of New Year's revelry, where punters dance under trees and enjoy views out over the rolling hills. The broad lineup covers everything from jungle and drum & bass to UK garage, bassline and dubstep, pairing scene luminaries such as Dillinja, Loefah and Youngsta (who will go back-to-back with J:Kenzo) with homegrown favourites like Half Queen and State of Mind.
RA Pick: Kiwi Rekords boss Conducta's slick brand of UKG is full of groove and swing.
Forever Midnight
Los Angeles, United States
December 30 – December 31
Forever Midnight is a new dual-city US festival to see in the New Year, taking place in Las Vegas and at the massive Los Angeles Convention Center–one of the largest in the US—which will serve as a warehouse party-style venue in the centre of the city, complete with world-class production. The inaugural lineup doubles as a list of the world's most in-demand DJs, including Âme back-to-back Dixon, Jamie xx, Kaytranada, Carlita, DJ Tennis and Chloé Caillet.
RA Pick: Green Velvet has several house classics under his belt, and his dynamic sets demonstrate the groove that first made him famous.
Beneath the Baobabs
Kilifi, Kenya
December 30 – January 1
Celebrating ten years in the game, Beneath the Baobabs (FKA Kilifi New Year Festival) returns for a stellar two days and nights of music over New Year's. Nestled against the striking backdrop of a plateau in Takaungu Creek, the musical programme blends techno, amapiano and Afro house with alté, gengetone and a host of live performances. The festival also partners with local environmental organisations Komaza and Wildlife Works, offsetting its carbon footprint each year and practising sustainable forestry. Spanning 50 acres with five stages and various hang-out zones, the festival blends natural beauty with an environmentally conscious ethos, offering a wonderful showcase of East African music, art and culture.
RA Pick: Authentically Plastic, cofounder of Kampala queer collective and label ANTI-MASS, makes their festival debut with their heavy, industrial-tinged take on techno, gqom and ballroom.
Search Festival
Swellendam, South Africa
December 30 – January 2
Taking over a water-rich farm near Swellendam, Search Festival returns for another four days of adventurous independent music. Originating as an alternative New Year's celebration curated by a small circle of friends, the event has gracefully evolved over the past decade, staying true to its ethos of collective experimentation. This year's musical programme and art direction revolves around the theme of "illumination," with music from a roster of South African talent and international guests. Adhering to the "Leave No Trace" principle, its environmental commitment also extends to food vendors and bars using only biodegradable materials for containers, alongside a recycling initiative in partnership with the local municipality.
RA Pick: Cape Town-born DJ, producer and educator Esa returns to the festival for the first time since 2019, gracing the stage with his sparkling and soulful selections.
Find our full festival listings for December here